Keyword research is a foundational part of SEO strategy, but it is also time and resource intensive. As a result, marketers are often looking for ways to automate keyword research in order to speed up the process and free up more time for strategy and execution
Thankfully, there are a variety of ways to leverage automation during keyword research. The below article offers guidance on keyword research automation and five ways of doing so using the SearchAtlas dashboard.
This guide will break down some key ideas related to keyword research automation, including:
Why keyword research automation is important to successful SEO
When marketers should leverage keyword automation tools
How to automate keyword research using SearchAtlas SEO software
Why Automate Keyword Research?
The reality is, there are often thousands of ways that users search for the same products and services.
Sifting through all of those keywords has historically been a very time-intensive process for organic marketers.
Automating keyword research can have major benefits for marketing teams, such as:
Access to larger keyword databases
Quickly identify more ranking opportunities
Assemble more comprehensive keyword lists
Collaborate with other team members in the same dashboard
Optimize workflows during the research phase
And the reality is, if your competitors are showing up on the first page of the SERPs, they are likely already using enterprise SEO software.
So learning how to use keyword research automation tools is essential for keeping pace and increasing the total keywords your website ranks for.
When Should I Use Keyword Research Automation?
Although automation is incredibly helpful and time-saving for marketing teams, it should never replace strategic thinking entirely.
Automating keyword research is about gathering necessary keyword data more quickly and easily.
But it's the marketer's or strategist's job to make informed conclusions about which keywords are the most relevant and present the best opportunities for their websites.
So what makes for a great keyword? SEO strategists have traditionally relied on four primary metrics when choosing keywords for SEO.
These metrics help marketers determine which keywords present the best ranking opportunities for websites.
So gathering these metrics quickly, and for thousands of keywords, requires access to keyword research automation tools. They can help gather the data you need to make strategic SEO decisions.
5 Ways to Automate Keyword Research Using SearchAtlas
There are a variety of ways that you can leverage keyword research automation when using the keyword research tools in the SearchAtlas dashboard.
How many keywords you need, and how quickly, will determine which of these options are most useful.
Also, you may prefer certain keyword tools depending on your level of knowledge and how familiar you are with the ways your target audiences uses search engines.
1. Generate Keyword Lists From Main Topics
The most basic way to automate keyword research is by starting with single keyword topics and creating lists from there.
This allows you to see all of the keyword variations of a particular search term along with all the long-tail variations and common questions users are asking.
For example, let's say your website sells wireless home security systems. After typing the primary keyword into the Keyword Magic tool, the software generates a table of similar keywords or variations.
It also provides the search intent, search volume, keyword difficulty, and cost-per-click metrics of those related keywords.
From there, you can create your own lists that you want to use in your SEO strategy.
First, click the "+" sign.
To add the keyword to a list, click an existing keyword list. Or click, "+ Create List" to start a new list.
To access your list, navigate to the "Keyword Research" tab in the toolbar. The table at the bottom of the page will include any lists you have created.
Click "View" to review a list. Click "Edit List" to make changes.
If you want to export your list to a CSV file, click "Export."
For marketers who have a more nuanced understanding of search terms, this option allows you to create lists tailored exactly to your own ranking goals.
It also allows you to tailor lists to Keyword Difficulty or Search Volume ranges that are the right fit for your website.
2. Access Keyword Ideas Generated by OTTO
For marketers who have less knowledge of keyword research metrics, the SEO AI tool, OTTO, is a great option for keyword research.
After connecting your Google Search Console account with the SearchAtlas dashboard, OTTO will suggest relevant keyword targets based on your website's current keywords and website content.
You can leverage the SEO Content Assistant to optimize your content for the keywords that OTTO suggests.
Navigate to "Content" > "SEO Content Assistant."
Add your keywords to the text box the click, "Generate Article."
Every two weeks, OTTO will suggest a new set of keywords that present ranking opportunities for your website.
For marketers that don't have an SEO strategist in-house or cannot spend as much time doing keyword research, OTTO provides just the right level of automation.
Following SEO AI recommendations can be a great way to stay focused on SEO and keep making efforts toward greater organic presence. But remember, these suggestions will not always be perfect.
Make sure that the keywords are relevant to your products and services so users will be more likely to convert after arriving to the page from a search engine.
3. Export Competitor Keywords Using the Keyword Gap Analysis Tool
One great way to generate keyword ideas for your own website content is to look at your competitors' keywords. Or, other websites in your industry with a strong organic presence.
If they share similar products and services, then those keywords may also provide opportunities for your own content strategy.
The Keyword Gap Analysis tool in SearchAtlas allows you to automate competitor keyword research. It will show you the "keyword gap," between you and them. That means the keywords that those websites are ranking for that your website is not yet ranking for. 
To use the Keyword Gap tool, navigate to "Keywords" > "Keyword Gap." Add your own homepage, as well as the homepage urls of at least two competitors.
Click, "Analyze Keywords," and the tool will generate a Keyword Gap report.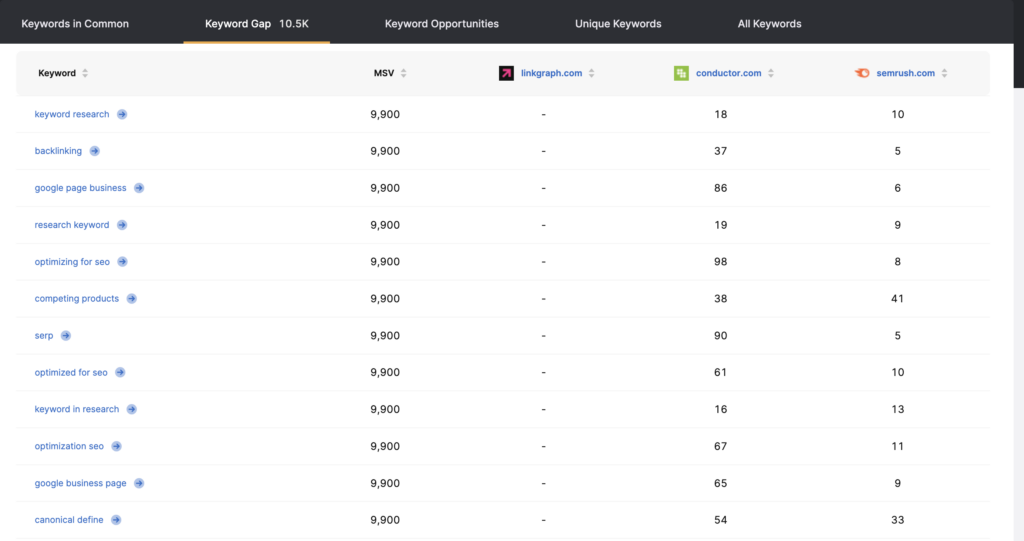 If you discover keywords that are driving a lot of traffic to your competitors' websites, add those missing keywords to your SEO strategy.
To rank for those keywords, you'll need to create optimized content that is informative, high-quality, and meets the search intent of those users.
4: Generate Keyword Clusters in the Content Planner
The Content Planner provides a quick and efficient way to generate many keyword ideas from one seed keyword.
This is a great tool for SEO beginners, or for those who don't have time to sift through hundreds of keywords using more traditional methods. 
To use the tool, navigate to "Content" > "Content Planner."
When the content plan is ready, it will populate in the table of reports. Click "View."
The Content Planner does the work of both keyword research and keyword clustering. It will group similar keywords together that share topical relevance.
When you click, "View Cluster," you can see important details related to that cluster of keywords, such as monthly search volume and cost-per-click.
The Content Planner also allows you to easily generate relevant content ideas for your content strategy.
Click, "Generate Article Suggestions," to get a list of potential blog articles that could explore the keyword in-depth.
To try out the Content Planner for free, click here.
5. See Competitor Google Ads Keyword Data
If you are doing keyword research for pay-per-click campaigns, you can automate much of your keyword research using the Keyword Magic Tool.
Simply start with a seed keyword and the tool will give you helpful information about how advertisers are leveraging that keyword in their PPC campaigns.
The tool will show you top advertisers for the keyword:
Also, example search ads that your competitors are running in Google Ads. These ads can provide inspiration for headlines, ad copy, and other optimizations.
Lastly, a list of suggested keywords to bid on based on their relevance, purchase rating, search volume, cost-per-click, and the number of competitors who also bid on those keywords. Keywords with high CPCs may also be worth targeting organically.
If you do not have marketers with extensive Google Ads experience, this tool can help automate some of the research required to understand competitor ad buying.
But remember, it's always better to leverage keyword research automation alongside strategic thinking. If you don't have any experience running paid search campaigns, make sure to run these suggestions by experienced PPC experts.
Start Using Keyword Automation Tools
There are so many benefits to leveraging keyword research automation tools.
For beginners, these tools simplify the keyword research process. That helps make organic marketing more accessible for marketers with varying levles of SEO knowledge.
For SEO strategists and agenices, spending less time and money on keyword research will free up resources to go after more keyword opportunities in your content marketing.
So don't wait! Get started with keyword research automation, and start seeing more organic results for your domain.